What are you looking for in your next commercial vehicle to take around the Middletown, Odessa, and Dover areas? Some people value performance, while others are looking for interior space more than anything else. No matter what your interests are, you need to make sure your next cargo van has the fuel efficiency you deserve.
There are plenty of fuel-efficient options available on the market today, but the new Ford Transit tends to stand out. While it offers all the interior space and performance you'd expect, its fuel-efficiency has been enhanced like never before. Learn all about the Ford Transit MPG, and discover whether or not its 25-gallon tank is good enough for your cargo van needs.
Advanced Fuel Capability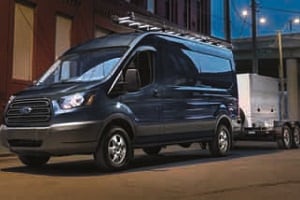 Ford has taken fuel efficiency to the next level with every available engine option in the Transit. The 3.7-liter Ti-VCT V6 engine offers advanced fuel capability, thanks to the Compressed Natural Gas/Propane Gaseous Engine Prep Package. This advanced system will change the way you think about fuel efficiency by utilizing new technology you won't find on many other models.
Alternatives to gasoline will always be more efficient. Even so, your Transit will be able to use gas as well, allowing you to enjoy the best of both worlds when you're behind the wheel. In addition to saving you at the pump, this alternative to standard fueling options is also better for the environment, so you'll be reducing your carbon footprint as well.
EcoBoost® Efficiency
In addition to the CNG/Propane-enabled engine, you can also opt for the 3.5-liter EcoBoost® V6 and all its direct-injection efficiency. The EcoBoost® technology has been implemented in numerous Ford models throughout the years, always bringing your favorite vehicles to new levels of efficiency. The Transit's version is no exception.
The key factor in this EcoBoost® engine is responsiveness. With a direct-injection system extracting as much power as possible from every drop of fuel, you can always count on your Transit to get all the power it needs without wasting a bit of your gas. In fact, that level of efficiency earned the Transit a best-in-class rating when it comes to its gas-powered torque rating of 400 lb-ft.
Turbo Diesel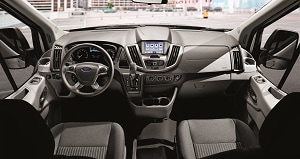 If you truly want to maximize your MPG, the 3.2-liter Power Stroke® I-5 Turbo Diesel engine is an incredible choice. This powerful engine can keep you running for hours and hours without wasting a single drop of your diesel fuel. Whether you're idling or dealing with stop-and-go traffic, this engine offers the efficiency you deserve.
Diesel is inherently more fuel-efficient than standard gasoline, so you can be sure you'll be spending less time at the pump and more time on the road. This is especially important if you're using your cargo van for business. Time is money, and the entire purpose of your business is to make as much of it as possible.
Test Drive the Ford Transit
While the Ford Transit MPG is certainly impressive, it's just a taste of everything this cargo van can do for you. If you want to learn more about everything it can offer, head over to Winner Ford, your local Middletown, Odessa, and Dover Ford dealer. Our friendly team is happy to show off everything the Transit can offer. Contact us to schedule your test drive today!