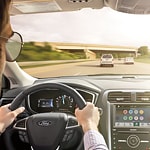 The sleek new Ford Fusion is attracting a lot of positive attention in Dover, DE, and the trendy ride is only getting hotter right now. This well-received midsize sedan fearlessly sends a fashionable message to every onlooker: Automotive design is officially transcending contemporary standards to usher next-level aesthetics.
For creating rich first impressions, the grandiose rotary gear shift instills a captivatingly progressive mystique. With a subtle but impactful presence, this stately apparatus emits a mature vibe while providing an extravagantly modern sense of vehicular command.
To accommodate the hustle-and-bustle lifestyle, Ford's engineers made it so you can easily fit a decent amount of materials in the back. Overall, amazing carrying capacities are enshrined by a generous 16-cubic-feet of cargo room, which is discreetly contained within the latest edition's spaciously enhanced trunk. Fortunately, Winner Ford can help you get a feel for the brilliantly expanded dimensions during a scheduled test run.