Finding the right midsize SUV can help you enjoy trips around the Dover, Middletown, and Odessa areas a bit more. The Ford Escape has been touted as one of the best midsize SUVs on the market, but how does it stand up to the Toyota RAV4? Both popular models offer similar features, so we're going to compare them to show how they differ.
In our comparison of the 2017 Ford Escape and the 2017 Toyota RAV4, we'll look closely at the interior space and comfort, technology and entertainment amenities, and safety features. By reading this review, you'll get a sense of both models. You'll even be able to decide which vehicle you prefer.
Interior Space and Comfort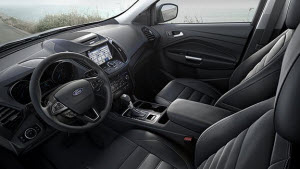 When you're in the market for a midsize SUV, you're looking for something with a decent amount of space to accommodate you and your four passengers. You and your front passenger get more room with 39.9 inches for your head and 43.1 inches for your legs. The Toyota RAV4 offers slightly limited headroom with 39.8 inches and the more obvious 42.6 inches for your legs. Rear passengers also get more room in the Ford Escape with 39 inches of headroom and 37.3 inches of legroom, compared to the 38.9 inches of headroom and 37.2 inches of legroom in the Toyota RAV4.
Technology and Entertainment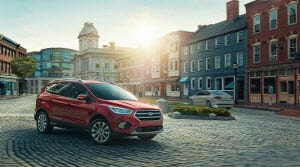 The Ford Escape and Toyota RAV4 are both equipped with 6-speaker sound systems to deliver your audio entertainment. You have options like an AM/FM radio or CD player that can play MP3 format files. The Ford Escape and Toyota RAV4 also feature Bluetooth® technology, letting you stay connected with family and friends while on the road. Each vehicle features voice recognition, which lets you access your media or phonebook contacts by using your voice while keeping your hands on the steering wheel. In addition, you can use this feature to access your mobile apps in the Ford Escape.
Safety Features
Each midsize SUV is equipped with anti-lock braking and traction and stability control systems designed to keep the vehicle on track during slippery road conditions. The Ford Escape even features Torque Vectoring Control. This feature provides superior handling when approaching corners too quickly by applying subtle brake pressure.
The Ford Escape also features MyKey. This system lets you program a special key for your teen driver. It'll automatically reduce the maximum speed limit. It'll even cut off the stereo system until all the passengers are safely buckled. It's a simple feature designed to teach your teen about safe driving practices.
Schedule Your Test Drive Today
By reading this article, you learned a great deal about the 2017 Ford Escape and the 2017 Toyota RAV4. You learned all about the similarities and differences between these vehicles. You saw that the Ford Escape has the advantage in each of the above categories.
Learn more about the 2017 Ford Escape by scheduling a test drive with us at Winner Ford. We're always happy to see drivers from the Dover, Middletown, and Odessa areas find the vehicle that's right for them.