If you're currently browsing for the right sedan or hatchback around the Middletown, Odessa, and Dover areas, there are a lot of vehicles to consider. However, the Ford Focus and the Chevy Cruze come highly rated among drivers, due to their great performance and features. But in terms of the 2017 Ford Focus vs 2017 Chevy Cruze, which of these sedans do you pick?
That can be a hard one to tackle, but our team at Winner Ford is here to help you. We're going to see how the 2017 Ford Focus and the 2017 Chevy Cruze measure up to each other in terms of power and performance, technology and entertainment, and space and comfort. Reading this vehicle comparison will help you differentiate between these vehicles so you can make the right choice.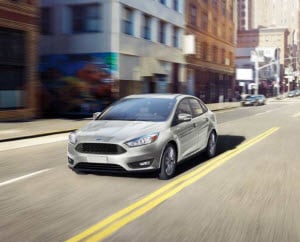 If you have any questions while you're reading, feel free to contact us!
2017 Ford Focus vs 2017 Chevy Cruze Power & Performance
Right out of the gate, there's a notable distinction between these vehicles-more specifically, their engines. The Ford Focus features a 2.0L 4-cylinder engine that can deliver 160 horsepower. The Chevy Cruze, on the other hand, is equipped with a 1.4L 4-cylinder engine, which falls short with its abilities to max out at 153 horsepower. Each engine is mated to a manual transmission, but each vehicle offers an optional automatic transmission.
Technology & Entertainment
Both the 2017 Ford Focus and the 2017 Chevy Cruze are outfitted with 4-speaker sound systems to deliver audio entertainment. Each vehicle is equipped with an AM/FM radio, but the Ford Focus also features a CD player with MP3 playback capabilities. These vehicles even feature respective dashboard-mounted infotainment systems. However, the SYNC® system, featured in the Ford Focus, allows for voice commands through its enhanced voice recognition system. The Ford Focus offers two smart charging USB ports. The Chevy Cruze doesn't even feature one USB port, requiring drivers to buy an external USB adapter to charge their devices while on the go.
Space & Comfort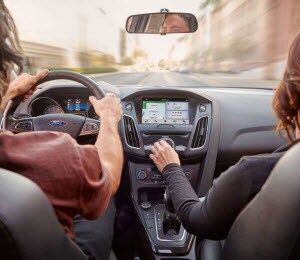 The Ford Focus and the Chevy Cruze are equipped to carry five passengers each. Both sedans are outfitted with cloth seating appointments. In terms of space, each vehicle features more than 38 inches of headroom for their front passengers. However, the Ford Focus takes the lead in front legroom with 43.1 inches, compared to the 42 inches of front legroom offered in the Chevy Cruze. The Ford Focus even offers more headroom for rear passengers with 38 inches. The Chevy Cruze only offers 37.3 inches of headroom for its rear passengers.
Learning More About the 2017 Ford Focus
At Winner Ford, we hope that our comparison of the 2017 Ford Focus and the 2017 Chevy Cruze showed you the glaring differences between these often compared sedans. While reading about how the Ford Focus compares to the Chevy Cruze can be helpful, nothing beats experiencing the vehicle for yourself. Stop by and give the Ford Focus a spin.
Schedule your Ford Focus test drive with us at Winner Ford, the dealership that proudly serves drivers in the Middletown, Odessa, and Dover areas.