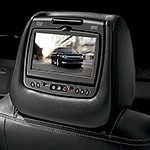 As you make your way through Dover, DE streets, you need a car that elevates your mood. If you choose the Ford Flex as your traveling companion, you'll emerge from your trip reinvigorated and happier. The following comfort features can boost your mood as you drive.
At Winner Ford, we live to make our customers' lives more convenient. An excellent example of this is the instrument panel in the Flex. The engineers carefully designed it to put all the controls you need within easy reach. They're also easy to read, so you don't need to strain your neck or eyes while driving.
The driver's seat fits the contours of the human body, so you're cradled in comfort during every mile. An adjustable headrest allows you to customize your seat for added comfort. One drive and you'll feel fine in a Ford Flex.