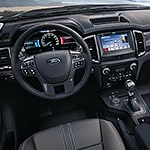 The Ford Ranger presents buyers with a durable and powerful pickup truck. Many choose pickup trucks for the towing and hauling capabilities, with the stylish design being a plus. With the Ford Ranger, truck customers also gain access to several helpful tech features. Technology might add a lot to the driving experience.
Technology extends beyond connectivity and entertainment. With the Ford Ranger, tech advancements deliver a Terrain Management System, one that comes with four different drive modes. Take advantage of this feature to boost traction and more. Trail Control provides additional tech-support when driving on tough terrain.
The Ranger comes with Ford CoPilot360, which delivers several driver-assistance technology features. Blind-spot monitoring and cross-traffic alert are two functions that could enhance safety when driving on roads and highways.
Winner Ford wants customers to feel enthused about owning and driving a Ford Ranger. Why not visit our Dover, DE location to see all the features up close and inquire about a test drive?