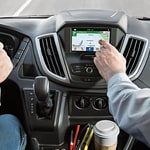 If you are looking for a passenger van to purchase, the Ford Transit is an exceptional choice. This vehicle also offers premium technology features in connectivity as well as safety. If you have any questions about the Ford Transit, stop by Winner Ford in Dover, DE to discuss the technology in this passenger van with our team.
The connectivity for the Ford Transit is exceptional. Not only can you connect to your smartphone with Android Auto and Apple CarPlay, but you also can access Amazon through Ford + Alexa. If you find yourself lost, just turn on Ford + Waze to get back on the proper route.
The technology safety features that come with the Ford Transit include a blind spot monitor, which is excellent for driving on the freeways. There is also a forward collision warning as well as adaptive cruise control. If you need assistance to parallel park, the Ford Transit also has enhanced active park assist.