At Winner Ford, we're committed to providing our drivers in the Dover, Smyrna, Milford, Felton, and Townsend areas with the highest level of customer service while actively helping them find a vehicle that they love and can rely on for the years and miles to come. As a family-owned and operated business, we strive to create a fun yet relaxing atmosphere where you can enjoy yourself as you find your next vehicle. The car-buying experience shouldn't be a dull and arduous process, but an experience that drivers can look forward to.
The Winner Ford family began with John Hynansky, but now we're in our second-generation of family management and leadership with seven dealerships. We strive to continue the great practices that started with our dealership. Our goal is to provide you with a memorable experience that you can look back on every time you get behind the wheel of your car. When you're in need of a new car, we hope you continue to rely on us at Winner Ford to guide you in the right direction.
Finding the Right Ford For You
Whether you're a first timer when it comes to Ford vehicles or you've been a loyalist for many years, you're sure to find something that suits you well on our lot. Our friendly and accommodating staff will go above and beyond in helping you find a vehicle that's perfect for you and your needs. They'll get to know you a little bit so they can make recommendations to help you decide on a model. We'll happily supply you with the necessary resources to help you make an informed decision towards your next mode of transportation. When it comes to signing, we'll work with local banks and lenders to find a deal that works best for you and your budget.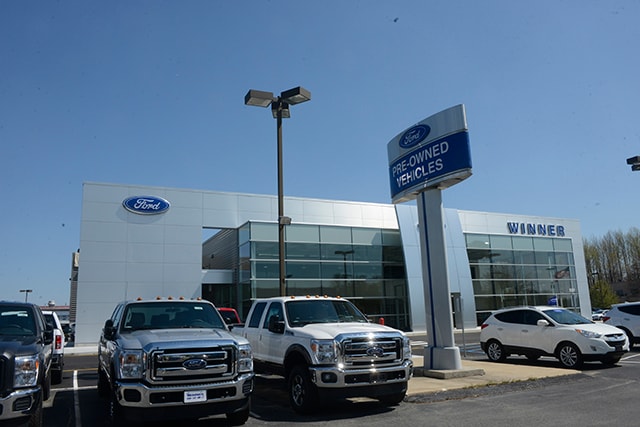 Our Mission
At Winner Ford, our mission is to be a trusted resource for automotive products in Delaware and its surrounding areas. What sets us apart from other dealerships is our ability to listen to our customers and determine their needs based on their tastes and preferences. We do this to ensure total customer satisfaction, and to continue the trend of customer loyalty with our dealership.
Our Core Values
Commitment to Superior Customer Satisfaction. We operate as a fully transparent dealership. We aim to help our customers during every step of the process with honesty, information, and ethical business practices.
Respect For Our Staff. At Winner Ford, we value our team like they're a member of the family. We're committed to providing them with a safe and challenging atmosphere where they can shine and be appreciated and heard.
Teamwork. Our dealership operates as a team. Every member is an important asset to our continual success and growth.
Continuously Evolving. We at Winner Ford have always kept our ear to the ground in an effort to grow with changes and trends in the automotive market place. We're always looking for ways to continue to evolve and improve in the way that we do business to guarantee efficiency and, above all else, customer satisfaction.
-The Team Members of the Winner Automotive Group
At Winner Ford, we're happy to be your Delaware Ford dealer and to help drivers in the Dover, Smyrna, Milford, Felton, and Townsend areas find a vehicle that they love. Contact us to learn more today!