At Winner Ford, we're proud to help drivers in the Middletown, Odessa, and Dover area with their automotive needs and services. We're happy to help many drivers with routine services like an oil change. However, we also try to stress the importance of a tire rotation. So, if you're asking yourself "where can I get a tire rotation near me?" you'll be happy to know that Winner Ford can help you out!
Tire Rotation - Where to Get Them Done?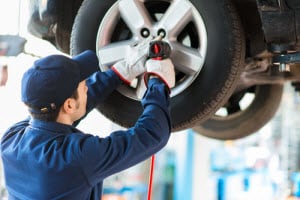 You may think that the tire rotation is an unnecessary expenditure when you go in for service, but it can help you save a lot of money. When you're driving, your tires are being worn down. Of course, it takes a while for you to notice the visual evidence of wear. After a while, your tires-worn down after frequent use-could eventually burst and not only will you be stuck on the side of the road, but you'll need to pay for a replacement tire.
The tire rotation is to help slow down the process of your tires becoming worn. Your tires are moved to different sides of your vehicle to help even out the wear so you can get as much as you can out of them before you inevitably replace them. The tire rotation process can help you keep your tires as long as possible.
Tire Rotation Benefits
Although this is a fairly straightforward process, there are many tire rotation benefits. The first one being that you can keep your tires lasting as long as possible. Tires are expensive, and you want to avoid purchasing new ones as long as possible. Not having your tires rotated, and letting them wear prematurely is a huge waste of money. Rotating your tires helps you put off the major purchase while keeping your current tires in good condition for a decent stretch of time.
How Tires are Rotated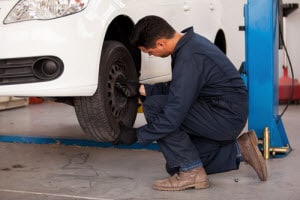 There are a few different ways that tires can be rotated on your vehicle to ensure to even their wear. The most common is the rearward cross, which takes the front tires and places them on the opposite sides of the rear. The X pattern, also popular, is self-explanatory as you change the tire positions in an x-shape. Both of those methods are best served for rear and four-wheel drive vehicles. Front wheel drive vehicles get the forward cross, which takes the rear wheels and places them on opposite sides of the front.
Getting Your Tires Rotated near You
If you're looking for somewhere to have your tires rotated, you can always look to us at Winner Ford. We'll happily include a tire rotation to your service itinerary. We'll even let you know about how your current tires are holding up, and whether you should consider a new set in the future.
At Winner Ford, we're always happy to help our drivers in the Middletown, Odessa, and Dover area get the most out of their tires. Schedule a tire rotation today!