Arguably the most used safety feature of your vehicle is your braking system. Your brakes are necessary to keep you safe on your drives around Middletown, Odessa, Dover, and beyond. To keep them in safe, working condition, you'll need to make sure they're regularly checked for proper functionality. If you ever suspect they may be experiencing and issue, bring your car in for service right away. The service center at Winner Ford is staffed by expert technicians who can help maintain your braking system and provide any repairs you may need.
Common Signs of Brake Problems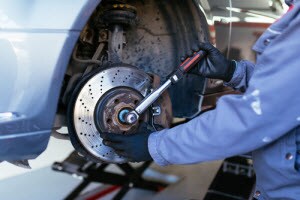 There are many signs that could indicate you need to have your brakes serviced. None of these signs should ever be ignored since the issue always has the potential to worsen and cause expensive damage to your vehicle-or an extremely unsafe driving situation. Be sure to bring your car in for regular maintenance appointments so your brakes will be thoroughly inspected and these issues can be avoided altogether. These are some of the common indicators that you need have your brakes looked at by a mechanic:
Abnormal Noises: Never ignore a squeaking or grinding sound that occurs when you press down on your brake pedal-your brakes are calling out for help!
Warning Lights: If the anti-lock braking system (ABS) light on your dashboard is illuminated, there's a problem with your brakes that needs to be treated right away. You may be low on brake fluid, but you should always have the brakes thoroughly inspected to determine the source of the problem.
Pulling: Your car should not seem as though it is "pulling" to either side when you press on your brakes. If this occurs, you'll need to have your brakes inspected, as it's likely they aren't properly adjusted, which could be very dangerous.
Stubborn Pedal: If you're finding it difficult to get your brake pedal to depress, there could be air trapped in your car's brake lines. You'll need to have your car inspected immediately.
Vibrations: If your steering wheel or brake pedal rattle and vibrate when you brake, have the brakes inspected right away.
Schedule Brake Repair in Dover, DE
If these warning signs have been occurring regularly on your drives around Middletown, Odessa, and Dover, you'll want to bring your car in for service as soon as possible. Contact the team at Winner Ford to schedule your appointment, and you'll be back on the road in no time!