At Winner Ford, we're not just the reliable dealership that proudly serves drivers in the Dover, Middletown, Smyrna, Milford, Felton, and Townsend areas. We're your location for quality automotive service and maintenance. If you wish to keep your engine purring and your vehicle running as smoothly and efficiently as it did the day you drove it home, you can always come to us for help.
Auto Repair Center Dover DE
At Winner Ford, our auto repair center in Dover, DE is stocked with state-of-the-art tools and technology. Our facility is fully equipped to handle the most necessary maintenance your vehicle will need to perform at its best. Whether you need a simple oil change, a fluid flush, or a complicated transmission repair, our service center is here to bring your vehicle up to speed, and back to working order.
There doesn't have to be a problem with your vehicle to have reliable service performed. Regularly scheduled maintenance has numerous benefits. You'll be aware of issues before they become major problems. You'll also help increase the lifespan of your vehicle.
Certified Technicians Dover DE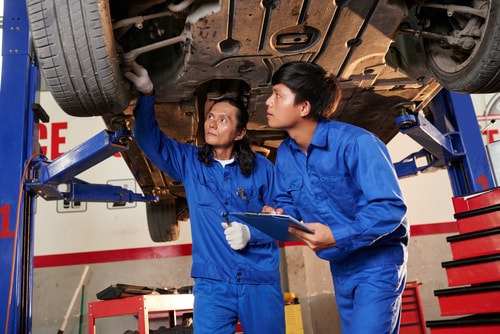 When your vehicle is in need, you don't need to worry, as our team of highly skilled and certified technicians are here for you. They have extensive knowledge of the inner workings of today's most popular models. They'll use their expertise, combined with sophisticated diagnostic tools, to ensure that your vehicle is receiving the best care and attention.
Our technicians will use these high-tech tools to identify the problem with your vehicle, and they'll go about the best possible solution. They'll gladly roll up their sleeves and go to work to make sure your vehicle is ready to face the open road. Your vehicle is an investment, and at Winner Ford, we're here to help protect your investment so you can enjoy the benefits of driving it around for many years and miles.
Schedule Auto Repair Dover DE 
Conveniently, you can schedule an appointment with our auto repair center online. All you need to do is fill out the form with some basic information and how you'd like to be contacted. We'll contact you right away to confirm your appointment with our service center. Then, you'll be ready to have your vehicle serviced by consummate professionals who aren't afraid to get their hands dirty when it comes to your vehicle's health.
At Winner Ford, we're happy to be the go-to location for automotive service for drivers in the Dover, Smyrna, Milford, Felton, and Townsend areas. Schedule your service today.