One of your vehicle's most important components is the battery-it's responsible for powering your vehicle so it can run. Without a functioning battery, your vehicle may not move, let alone turn over, when you've got the key in the ignition.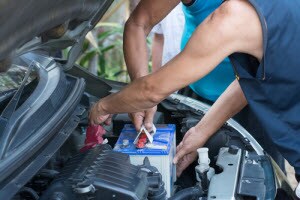 Due to the variety of factors that can damage a car battery, finding the right service around Odessa, Dover, or Middleton should be high on your list if there's an issue with your car battery.
Battery Service & Replacement
Whether you've noticed an issue with your car battery, or you simply want to check on its condition, our technicians at Winner Ford of Dover are here to help. They'll perform all the necessary tests and diagnostic checkups to check the status and strength of your battery. They can also perform crucial repairs, as well as a full replacement, and will have your vehicle up and ready to tackle the Dover roads smoothly.
How Often Should My Battery Be Inspected?
There's quite a lengthy list of things that can damage your car battery. The battery in your car typically lasts up to around four years or so, but once it hits that mark, it can start to lose power. A great way to stay on top of your battery's health is by having it checked twice a year, or during every oil change visit.
Are There Ways to Tell I Need to Have My Battery Replaced?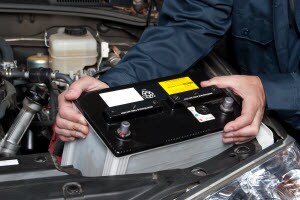 Luckily, there are a few noticeable signs that indicate a few issues with your battery and its ability to power your vehicle. You can notice some of these signs right away when you start the car. If it has trouble turning over, or even fails to start, it's a good sign that there's something wrong with your battery. You may also notice that your headlights aren't as bright as usual, which is a sign that your battery is beginning to lose its juice.
Battery Repair Signs
You don't have to be a mechanic or a certified technician to be able to tell that there's something wrong with your battery, but when you pop the hood, you should know what to look for so you can decide for yourself-and there are quite a few things to look out for.
During the summer or winter, whenever the temperature is at either extreme, it can result in the battery beginning to swell or bulge. Another major giveaway that something is wrong with your battery is the smell of rotten eggs. This stench tells you that your battery is leaking acid, and you should seek out service before the acid damages any of the vital connections or parts under your hood.
If you've looked under the hood, or noticed any of these signs, don't hesitate. Contact Winner Ford of Sover to schedule your battery service, and then you won't have to worry about your vehicle powering down somewhere in the Dover, Middleton, or Odessa areas during your many trips.