A common fear that drivers have is that there will be a problem with their tires. Whether they're on the highway or simply making their way around the backroads of the Middletown, Odessa, or Dover area, there's always the possibility that there's a pothole waiting to deflate your tire. A tire problem can end up leaving you stranded. If you don't have the wherewithal to put the spare on your vehicle, you're going to have to wait until someone comes along to offer you help. However, an effective way to avoid this scenario is by keeping an eye on your tires for any issues or wear, and having somewhere to go for a tire repair near you. If you do need new or discount tires, however, you can still contact us at Winner Ford of Dover for assistance.
Common Tire Issues You Can Spot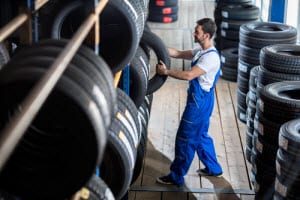 One way to stay ahead of a flat, or any other tire repair issue that would prevent your vehicle from being mobile, is to have a solid understanding of common tire issues. More importantly, you'll want to know how to spot them. An easy way to stay ahead of these tire problems is by making sure that your tires are inflated properly. If they're over or underinflated, your tires will be more susceptible to wear, tear, and unnecessary damage.
Cracking/Bulging. If you notice any bulging or cracking on your tires, it can be an indication that they're not inflated properly. However, the main causes of cracking or bulging is hitting debris, potholes, curbs, or any other object in the road.
Cupping. Cupping occurs when there's a part of your suspension that's damaged. The culprit is usually shock absorbers. This problem causes the tire to bounce while in motion, which in turn causes more wear on a specific tire.
The Penny Test. This is a clever way to see how much tread is left on your tires. Place a penny upside down in the tread track. If you can see above Lincoln's head, you should consider getting new tires because the tread is low.
Pulling. When your vehicle starts pulling to one side, it's a clear-cut sign that one of your tires isn't properly inflated. The direction it pulls in is an indication of what side the affected tire is one.
Vibration. Another sign to look for when you're driving is if your car is vibrating and feels like it's coming from under the seat. It usually means that your rear tires are out of balance. However, it could also be suspension issues.
Locating the Right Tire Shop
When you notice any of these signs, asking yourself "where can I get tire service near me?" should be your first step. Luckily, Winner Ford can help you with these tire issues. Whether you're in need of a simple repair, a realignment, tire rotation, or even a full replacement with our new or discount tires, our team of skilled technicians at our tire shop can help get your vehicle back on the road and driving normally. We'll determine the best course of action so you can get back to driving your vehicle uninterrupted by worn tires.
At Winner Ford, we're here to help our drivers in the Middletown, Odessa, and Dover area keep their vehicle and new or discount tires in great shape. Schedule tire service today!