Technology features are essential to every new car, truck, and SUV on the road today. Gone are the days where cars are simply about space and performance; while these are certainly important factors, they're also only part of the equation. Drivers in Odessa, Middletown, and Dover demand the best in auto technology such as driver aids, infotainment, telematics, and safety features, as well as outstanding power with the best in comfort and luxury. 
It can be tough to work out exactly what kinds of auto technology you can expect from vehicles these days, especially since the various option packages and trim levels can vary not just from model to model, but significantly from year to year. That's why it can be helpful to have a single resource with comprehensive coverage of the auto technology available, and Winner Ford is here to provide just that.
Ford Technology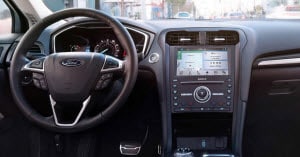 Ford vehicles are known for being tough performing and incredibly reliable, but they also provide the most advanced technology available. The SYNC® 3 infotainment system is consistently rated as among the best on the market. It sets you up with smartphone app integration, satellite radio, and all the navigation and safety telematics features you could ever need. The SmartGauge® with EcoGuide feature from Ford provides vital driver information at every turn, to both delight and empower our drivers. 
Of course, different levels of technology are spread among different trim levels and options packages, which can widely vary between vehicles. And so, finding the right technology for your Ford Fusion, Ford F-150, Ford Focus, Ford Escape, any other Ford vehicle requires having access to an easy reference for our complete line of cars, trucks, and SUVs.
Every Model, Every Year
Check out this page for the complete range of Ford auto technology features divided by model and year. If you're looking for a 2017 Focus, you'll find it below. If you want the tech you get in a 2018 Ford Mustang, it's there as well. Our goal is to provide a helpful resource. If you don't see your vehicle, keep checking back because our list grows every day! 
Winner Ford is your complete resource for information on every Ford vehicle in Dover, Middletown, and Odessa. Check out our list on this page, and get in touch with us to find your next dream car today.