Think it can't be done? Think again! (Hint: The internet is your friend.) Our website offers a variety of helpful tools and information to help you complete the car buying process in just one hour. You'll be able to research, price, and finance your purchase all in one convenient place-what could be faster than that?! All that's left to do is stop by Winner Ford to sign your name and collect your vehicle. Soon, you'll be hitting the roads of Middletown, Odessa, and Dover in your brand-new Ford!
Reviews & Comparisons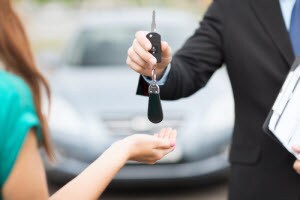 You'll want to begin your new vehicle search by conducting thorough research of your options. Right on our website, you'll find reviews of our favorite Ford models where you can learn about what each car has to offer. You'll want to begin by creating a list of the features that you need your car to have. Consider the number of passengers you'll need to carry, the amount of cargo you'll need to carry, the tech features you want, your budget, and more.
Our entire inventory is listed on our website, so you can see exactly what we have in stock at any given time. Read reviews of our models to determine which can provide all the needs you've listed. You can also read our comparisons to see how each Ford model stacks up to its toughest competition on the market.
Quick Quote
Once you've decided on a model that's right for your needs and has all the features you want, you'll need to make sure that it fits within your budget. Each listing in our inventory has a list price, and you can even search through our inventory using price as a parameter.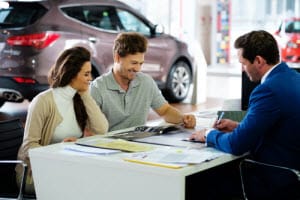 Additionally, you can get a quick quote on the model you'd like by entering the vehicle's model and year, and you'll immediately be sent a price. If you're on the hunt for a deal, don't forget to check out our specials, where you'll be able to find great prices and incentives.
Apply for Credit
It's your decision whether you'll buy or lease your new car, and you can read up on what each option entails on our website. You'll also have the opportunity to estimate your credit score to get a better idea of what your car loan will look like, and best of all, you can apply for a loan right on our website.
Simply fill out our credit application, and our team will review your information and get back to you right away with your options. They'll quickly find you a payment plan that works with your budget, so you can focus on the excitement of driving your new Ford!
Visit Your Ford Dealer!
After you've completed all the preliminary steps online, it's easy to simply walk into the dealership, sign your name, and drive home in your new car. Buying a car should be fun and exciting, and when you can complete the whole process in just one hour-it is! If you have any questions, feel free to reach out to the team at Winner Ford. We can't wait to put your new car on the roads of Middletown, Odessa, and Dover!